AdTech Optics designs, engineers, and manufactures mid-IR semiconductor lasers based on Quantum Cascade technology.
Home to a respected team of dedicated engineers and scientists, AdTech has partnered with the world's leading academic institutions and has contributed to the scientific development of the emerging quantum cascade (QC) technology with numerous "firsts & bests" in laser design and manufacturing, setting unprecedented performance milestones. AdTech Optics has committed substantial resources to furthering the science and engineering of QC lasers, and is a widely respected member of the NSF collaboration on Mid-InfraRed Technologies for Health and Environment – MIRTHE.
Our team is shaping the industry standards, and is continually engaging in Research & Development in a fast-paced environment rich of intellectual resources, innovative technology solutions, and state-of-the-art equipment.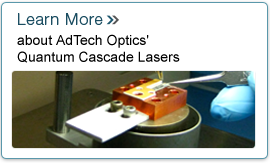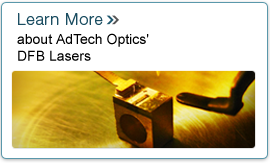 From Lab to MarketAdTech Optics produces lasers over the whole mid-wave and long-wave infrared (MWIR & LWIR) spectral regions. We offer the most comprehensive selection of quantum cascade lasers optimized for high efficiency, high power output or for medium-power output and low power consumption. Possible uses range from defense and security, to analytical, health and environmental applications.
Product Overview
AdTech's QCL products cover almost entirely the wavelength range from 3.8μm to 12.5μm. Most of our devices are capable of continuous room temperature operation and can be fabricated in distributed-feedback (DFB) waveguides for single mode emission or in broad area devices for high power applications.
Please refer to our product specs page for examples of lasers specifications.
Continuous wave room temperature lasers currently available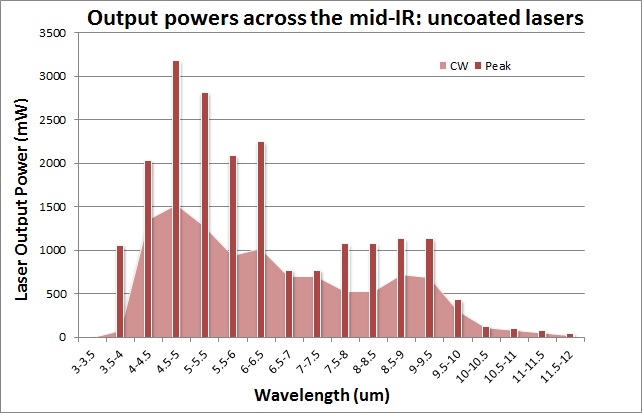 We are continuously updating our inventory and producing new wavelengths!
More specific information on all the available products can be requested here.